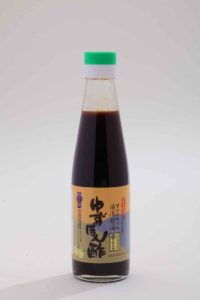 Yuzu Ponzu -Citrus Seasoned Soy Sauce
Ingredients: Soy Sauce (water, soy beans, wheat), Rice Vinegar, Yuzu Juice, Starch Syrup, Sweet Sake, Sugar, Salt, Konbu (Sea Weed) Extract, Katuo-bushi(Bonito) Extract
Yuzu Ponzu is a sour and sweet soy sauce with Yuzu flavor and soup stock of bonito and konbu. It is very popular sauce in Japan using for various dishes such as hot pot (nabe) like Shabu-shabu, tofu, noodles, grilled fish, pork or beef, hamburger steak.
shelf life:1 years
| | |
| --- | --- |
| ▶︎ 200ml | |
| ▶︎500ml | |
| ▶︎ 720ml | |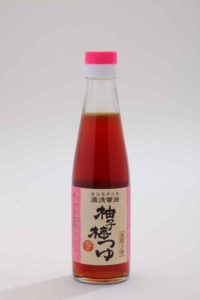 Yuzu Ume Tsuyu
Ingredients: Soy Sauce including Wheet and Soy Beans, Sugar, Fructose Dextrose Solution Sugar, Yuzu Juice, Plum Vinegar, Katuo Bonito Dashi, Sweet Sake, Konbu (Sea Weed) Dashi, Salt, Katuo-bushi(Bonito) Extract, Alcohol
Yuzu citrus juice and plum vineger are mixed with Shiro dashi light color soy sauce. Tsuyu - dip soup sauce for noodle. 3 times concentrated. Fresh flavor of Yuzu and plum is very good to eat with somen, udon and soba noodle. Great to eat with salad and tofu as a dressing. Good to eat with Tempura and Shabusyabu.
shelf life:6 months
| | |
| --- | --- |
| ▶︎ 200ml | |